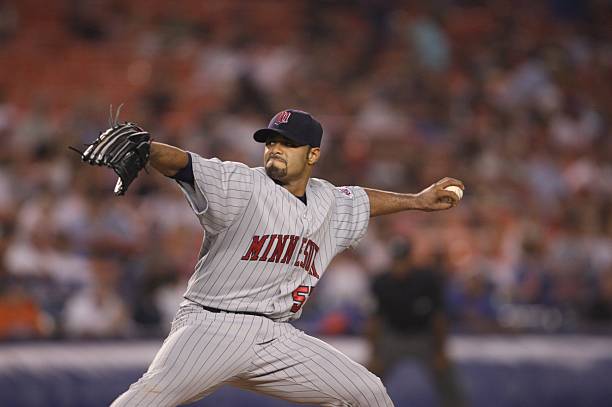 I knew the first Ode to a Pitcher had to be about Pedro Martinez — it was only a matter of which start. I picked the '99 All-Star Game.
I also knew the second post had to be about Johan Santana, one of my favorite pitchers in the era when my baseball fandom exploded (2000-09) and a great example of a white-hot peak and little else. Santana was awesome and then poof, he was gone:
| | |
| --- | --- |
| Season | WAR |
| 2004 | 8.7 |
| 2005 | 7.2 |
| 2006 | 7.6 |
| 2007 | 5.0 |
| 2008 | 7.1 |
| 2009 | 3.3 |
| 2010 | 4.7 |
| 2011 | N/A |
| 2012 | 1.7 |
Flat-out fantastic. To be honest, he deserved at least a conversation about the Hall of Fame, but alas. For Santana, 2004 was his breakthrough; he led the league in strikeouts and claimed his first Cy Young Award (he'd win his second in 2006). How'd he do this? Well, Santana lacked great size and didn't throw especially hard (low 90s, although that's pretty good for a lefty). However, his changeup was devastating, one of the best in his era and arguably one of the best ever. You can't design one any better; it was about 10 mph slower than the fastball and plummeted off the plate. Plus, because his delivery was so smooth he had little trouble concealing it. Add in a better-than-you-remember slider too and you have a dominant pitcher.
But seriously, the changeup:
That is a hapless swing. Santana was lethal.
The 2004 Twins won the AL Central for the third straight year. Santana led the rotation, followed by Brad Radke. Corie Koskie, Lew Ford (!!!) and Torri Hunter led the way at the plate, while a young and extremely-well hyped catcher named Joe Mauer had come up and fared well with the bat in limited action (138 OPS+). Ultimately, Minnesota claimed the division comfortably.
A familiar foe awaited in the postseason. The Twins danced with the New York Yankees in the Division Series a year prior and lost in 4. The 2004 Bombers were as loaded as ever, a 101-win powerhouse with an absurd offense and enough pitching to get by. Remember, this Yankee team was fresh off a World Series appearance and added Alex Rodriguez and Gary Sheffield. However, astute fans remember the Bombers lost Roger Clemens and Andy Pettitte, and a couple prized pitching acquisitions, um, failed to pan out. Certainly, the starting rotation wasn't as stacked as years past.
Therein lies the path to victory for Minnesota. The Twins march into the ALDS as the underdog but with the ability to run arguably the world's best starter out two times  — that's a big card to play in a short series. Santana faced the Yankees twice in 2004 and pitched well both times.
The pursuit of another championship in Minneapolis begins in Game 1, with the Twins' ace stepping onto the fabled Yankee Stadium mound. For the purposes of the post, we will focus on the first inning.
***
This lineup is no picnic:
| | | | |
| --- | --- | --- | --- |
| Name | Position | Bats | OPS+ |
| Derek Jeter | SS | R | 114 |
| Alex Rodriguez | 3B | R | 131 |
| Gary Sheffield | RF | R | 141 |
| Bernie Williams | CF | S | 108 |
| Jorge Posada | C | S | 131 |
| Hideki Matsui | LF | L | 137 |
| Ruben Sierra | DH | S | 94 |
| John Olerud | 1B | R | 114 |
| Miguel Cairo | 2B | R | 100 |
Frankly, injuries limit the damage. Jason Giambi missed most of the year and was ineffective when he did play. Also, note that Kenny Lofton is on the roster but not starting. Why am I noting that? Because Kenny Lofton was the man, that's why.
It begins with The Captain. Derek Jeter steps to the plate and attacks a middle-low fastball and puts fairly decent wood on it. But Torri Hunter is there for an easy first out. One pitch, one down.
Alex Rodriguez steps up next. Let's remember something about A-Rod in 2004; he was awesome. The failed Red Sox-Rangers trade from the prior winter was a massive story and Rodriguez ending up in New York felt like a dynasty-extending move. It also irritated people who were sick of seeing Jeter and the boys play late into each October. I set this up because Rodriguez vs Santana is a hell of a matchup, an elite pitcher battling a top-of-the-line hitter. This is what October is all about.
We don't get an extended battle, however. Santana opens with a breaking ball that Rodriguez scatters to second and Michael Cuddyer fumbles it. Note the way Santana tumbles off the mound — the announcers gloss right over it, but I bet you the Twins dugout took notice:
Another new Yankee, rightfielder Gary Sheffield, steps up to face Santana. Sheffield was tremendous in 2004, finishing second in the MVP voting and most importantly for this at-bat, tore up lefthanded pitching all season (.314/.423/.550).
Santana opens the at-bat missing high and away with a breaking ball. As Joe Buck and Tim McCarver discuss Sheffield's love life (seriously), Santana goes high and away again, this time with a fastball at 93 MPH. Two-and-oh is not a comfortable count against someone as aggressive and dangerous as Sheffield, so Santana works him carefully, just missing low-and-away with a nice looking changeup. After shaking off his catcher — which McCarver, a former catcher, is flabbergasted about — Santana misses again with a fastball away, sending Sheffield to first.
A-Rod singled, Sheffield walked and now Santana must deal with the switch-hitting centerfielder Bernie Williams. By 2004 Williams had ceased to be the hitter he once was, but the veteran still had pop against lefties (.265/.384/.464) was no stranger to postseason heroics. Still, one wonders if Santana decided it better to face Williams with a 0-0 count than Sheffield at 2-0. Either way, early in Game 1 things are getting tense. Luckily, Santana is no stranger to punchouts and the Yankee lineup trends easier to deal with from here.
The 2004 AL Cy Young award winner opens the exchange with a 93 MPH fastball right past Williams:
He ain't getting cheated with that hack. Williams is the third Yankee this half-inning to swing at the first pitch. I'd love to ask Santana how he felt seeing Williams miss here. Knowing the fastball can beat the Yankees centerfielder opens up so many options.
Santana doubles down and powers another fastball past Williams, this one perhaps a smidge higher to run the count 0-2.
As A-Rod dances off second base, Santana misses high with another fastball. Three consecutive fastballs up in the zone aren't by accident; Santana has set Williams' eye level. With the count 1-2 and the best strikeout pitcher in the league on the mound, you know what's coming.
The pitch ends up too far outside for Bernie to chase, but the idea is obvious. Fastball-fastball-fastball followed by a low-and-away off-speed pitch. That's standard sequencing, and Santana's smooth delivery helps disguise it. He misses off the plate away, but given the count that's no problem. The idea is strikeout or weak groundout.
The count moves to 2-2. Santana comes back with the fourth fastball of the at-bat, this one catching a bit of the plate. Williams fights it off. Because the command is so precise, despite getting four fastballs Williams has barely even made contact. Santana is pitching carefully, yes, but he isn't nibbling. Fastballs up in the zone aren't a sign of timidity.
The count holds at 2-2 and Santana serves up a nasty changeup that barely misses outside.
That's a hell of a take.
Full count. Rodriguez and Sheffield on the bases. Old Yankee Stadium growing loud. One more miss and the Twins find themselves staring down the barrel early in Game 1. Rodriguez and Sheffield inch further into their leads as Santana delivers another high-and-away fastball and Williams again fights it off.
I love what Santana does with the next two pitches. The eighth pitch to Williams is a break in approach, a fastball in on the hands that the centerfielder barely fights off. Instead of going back upstairs, Santana comes inside. Now Williams knows he has to protect each part of the plate, but Santana knows Williams likely won't chase. What a battle.
With Rodriguez growing bolder off second base, Santana looks him back and receives a cascade of boos. Eight pitches in, Santana has options here. You'd expect him to return to the changeup, but where? Or do you risk elevating the fastball?
Dear Lord.
Williams takes a nasty change for a called strike three and Blanco easily guns down Rodriguez. After a tense at-bat against a tough hitter, Santana ends the threat.
Inning over.
***
If you watch the whole game you'll figure out quickly that Santana didn't have his best stuff. He had to pitch carefully and manipulate the fearsome Yankee offense into weak contact. Consider how he pitched to Williams — fastballs up and away, time and again going back to that lethal changeup lower in the zone. The Yankees chose to be aggressive and had no problem going after his fastball — so Santana used that to his advantage. When Williams didn't chase the two changeups away, Santana moved inside and froze him. Not everyone can pull that off. It takes confidence, great stuff, and the skill to execute in a pressure situation.
"You have to be careful with them, because if you make a mistake, then you have to pay for it," Santana said. "I was able to throw the right pitch at the right time, because I know that my teammates can make some plays. That's the way we are."
He wasn't kidding — the Twins turned an incredible five double-plays to support their ace. He finished with 7 innings, allowed 9 hits, 1 walk and struck out 5. Juan Rincon and Joe Nathan closed the door, shutting out the Yankees to win the series opener.
Ultimately we know where this story goes. Santana faces the Bombers again in Game 4 with this team down 2-1 in the series. He pitches well but not deep into the game and the Twins bullpen fails to protect a 4-run lead. Minnesota hasn't won a playoff game since the shutout.
The Yankees move on, build a (seemingly) insurmountable lead in the ALCS only to eventually collapse, clearing a path for a bunch of idiots to move on and win their first World Series in about a thousand (or so) years.