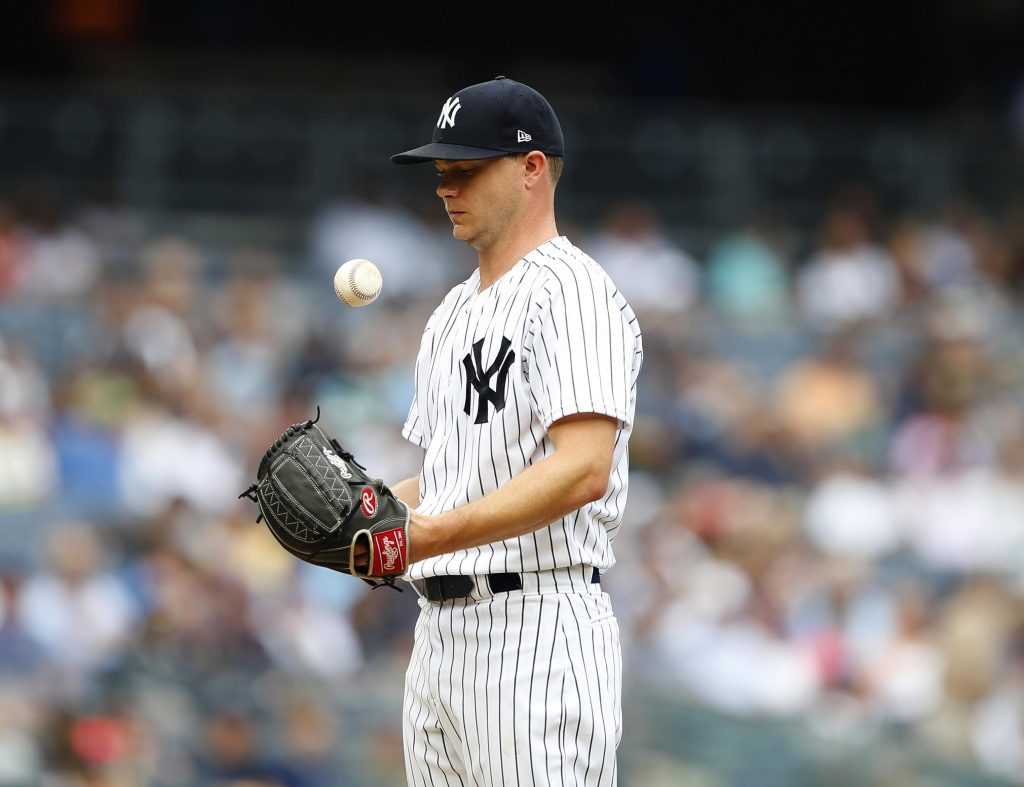 The Cincinnati Reds and New York Yankees have been hammering out the specifics of a deal to send RHP Sonny Gray to the Reds for what seems like years now. We keep hearing it's close:
https://twitter.com/JimBowdenGM/status/1086993861648572416
Gray was a bit of a disaster for the Yankees. They acquired him in the summer of 2017 for three prospects, and ultimately neither the Bombers or Oakland Athletics came out looking great. The prospects mostly haven't performed and Gray has certainly underperformed. In roughly 1.5 seasons in the pinstripes, Gray threw 195 innings to a 98 ERA+. Given that he was acquired as part of a triumvirate at the top of the Yankee rotation (with RHP Luis Severino and RHP Masahiro Tanaka) … yuck.
But the question is why? No, Sonny Gray was never a dominant pitcher in Oakland (career ERA+ of 114). But he was valuable. Gray in New York was in every possible way an inferior pitcher, allowing far more free passes and a crippling amount of home runs. The Yankees apparently ran through a series of changes to fix Gray, including tweaks to his delivery, his approach and having throw to a personal catcher (Austin Romine). None of it worked. I'm suspicious of what went on with Gray, especially given the Yankees' tendency toward tweaking how pitchers work. But I don't know.
Evidently, the Yankees don't either. Unfortunately, there is history here of good-to-great pitchers falling apart in New York (Javier Vazquez). But Vazquez went on to be pretty good again after fleeing the Bronx; might the same be true for Gray?
I suspect so. The frustrating thing with Gray is the stuff. Visually it's still there, as Michael Augustine of PitcherList demonstrated:
https://twitter.com/AugustineMLB/status/1086988862398914562
That looks pretty good, right? Alas, it never worked in New York, and even though I'm optimistic, it might not work anywhere else either.
The other side of the coin is the alleged return. Doug Gray, an expert on the Reds minor league system, had this to say about what Cincinnati might be shipping out to New York:
The Reds aren't talking about spare parts here. Shed Long and Tyler Stephenson are valuable pieces, and frankly, Gray was terrible last year. Even as someone who thinks Gray might revert back into a mid-rotation starter again outside of New York, that's kind of a lot to give up. Plus, Gray struggled with the long ball, remember? Um, Cincinnati's ballpark isn't the remedy to that problem.
Who else is bidding for Gray, especially after Yankees GM Brian Cashman bizarrely declared Gray was to be traded after the season ended? Not sure. Something doesn't add up. Either the reports aren't right, or the Reds are taking a gamble. Cincinnati has need of pitching, but parting with valuable pieces for someone as uneven as Gray is a risk.
I appreciate that Cincinnati wants to win — more teams should do this. It's good for the sport. But man, this could be a rough one to swallow.
For the Yankees, getting anything of value back for a pitcher you've deemed unable to succeed with you is a victory. The question will be, how big of a victory?