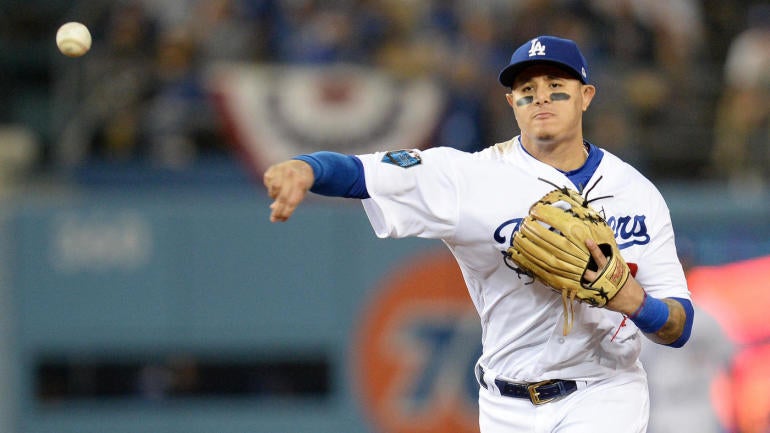 Finally.
Half of America's long, national nightmare is over; Manny Machado has agreed to a 10-year, $300 million deal to join the San Diego Padres. The signing comes after months of speculation about where the prized infielder might go, and whether the tepid response to both him and his fellow free agent, Bryce Harper, foretold labor issues to come.
Some of that is a conversation for a different day. For today, the Padres landed an established All-Star to pair with their list of stellar prospects, in particular, Fernando Tatis Jr., the best shortstop prospect in baseball. One would expect Machado to play third and Tatis to occupy short in the bigs, forming a dynamic pair that in time could rival what the Indians have on the left side of their infield.
The key phrase there is "in time." Right now, the Padres aren't great. Last year not one single Padres position player and only one pitcher produced more than 2 fWAR. Machado will surely break that barrier next year. Tatis and some others might too.
That's why I love this move for the Padres. It sets them up wonderfully for when the prospects start to blossom — and make no mistake, that could be soon, probably in 2020. Machado projects to be great for several more years, possibly even deep into the latter half of the pact should he stay in Southern California. Note that he can opt-out of the contract after the fifth year.
The Padres probably aren't contenders next season, but chances are the Dodgers and Rockies start to feel the heat soon after.
So, what are the Pads getting?
Manny Machado is among the game's elite infielders. He hits for power, gets on base and has shown flashes of above-average defense (predominately at third base). There's a reason he signed for this kind of money. He's young and awesome.
Here are his last few seasons (note that with wRC+, 100 is average):
| | | |
| --- | --- | --- |
| Season | wRC+ | WAR |
| 2016 | 131 | 6.3 |
| 2017 | 103 | 2.6 |
| 2018 | 141 | 6.2 |
Machado's bat drives most of his value. He hits for a lot of power, ranking 22nd in all of baseball in isolated power for 2018 and second among shortstops, only a bit behind Francisco Lindor. His wRC+ was first among all shortstops and 9th in all of baseball. He's a complete hitter, and his 2018 excellence is only a bit better than what we've seen in the past. Encouraging, given he's only 26.
That's a big part of the puzzle here. Not only is the Manny Machado of the here and now an upper-echelon player, but he's arguably not even the best he'll be yet. If we believe that a player's prime normally rests somewhere in his age 27-31 seasons, Machado is only now turning into the stretch drive of his best years.
With Tatis on the way, Machado gets to slide back over to third base. He reportedly wanted to play shortstop again last season and did so to mixed results in Baltimore and Los Angeles. I'm not sure he was a good long-term bet there. He's a better fit at third and signing with the Padres presumably removes the question altogether.
I guess we have to talk about the hustle comments, right?
"Obviously I'm not going to change, I'm not the type of player that's going to be 'Johnny Hustle,' and run down the line and slide to first base and … you know, whatever can happen," Machado said to The Athletic. "That's just not my personality, that's not my cup of tea, that's not who I am."
It became a big story. Typically I dismiss these kinds of headlines, but considering the commitment in years and cash going Machado's way, I understand it. Machado isn't the only player who hasn't run out each groundball, however. You know who else didn't at one point this season? Bryce Harper.
Things happen. A groundball isn't the issue — it's whether the player gave a team reason to believe he wasn't worth the huge financial commitment. Clearly that wasn't the case here.
Credit to the Padres for investing in their team, too. After a disastrous signing last winter — hey, turns out Eric Hosmer isn't great, who knew? — the team opened the checkbook again to land an actual star knowing the cavalry is on the way — Tatis and Luis Arias and Chris Paddack, etc.
It's a great move and the right time to do it.