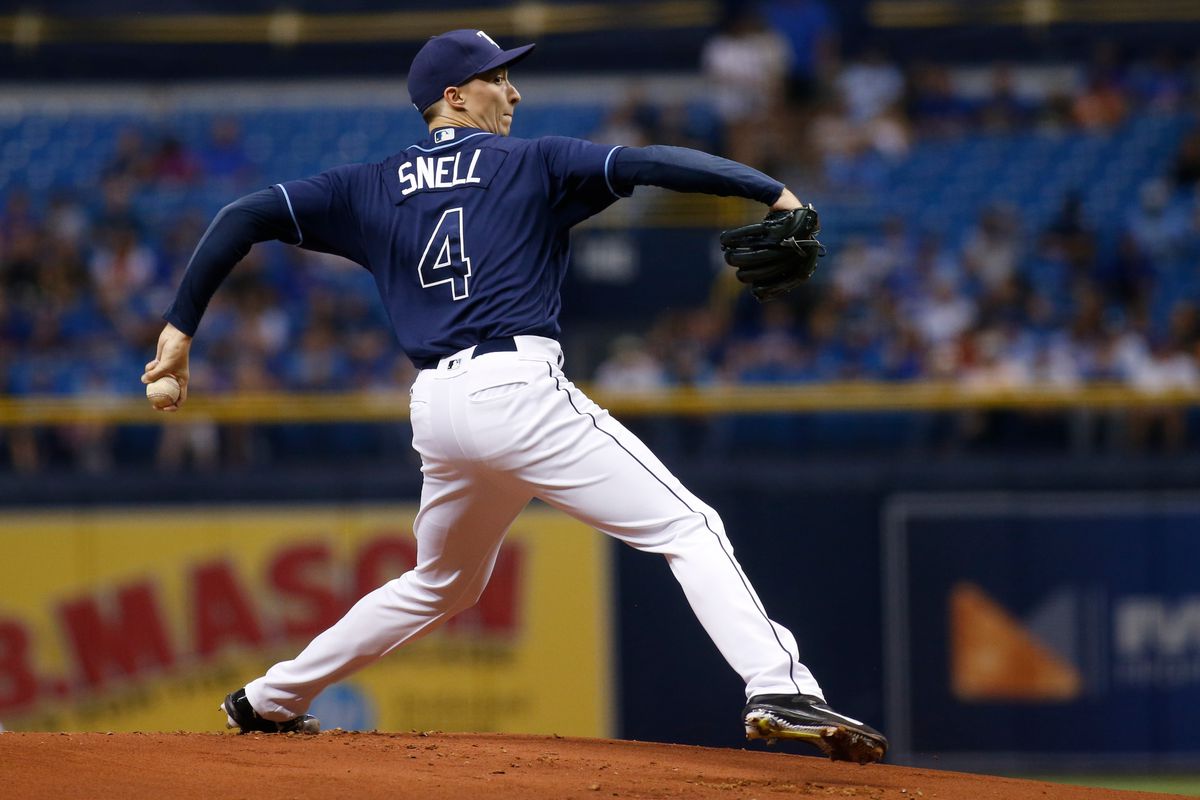 I like pitchers who set the tone.
Why are you laughing? Is it because I actually love all pitchers? Well, you got me there. But hurlers who control the tempo and tenure of the game, who seize control and never let it go — those dudes have a special place in my American heart. Yeah, that kind of guy. John Wayne stuff.
Blake Snell carries himself with the intensity of a Bob Gibson, a Roger Clemens, a Scherzer or a Jacob deGrom, even if we don't intuitively think of him that way. But dominant, intimidating pitchers don't earn those titles simply by looking like a badass. No, they earn it by how they pitch. They earn it by working both sides of the plate and without a hint of fear, throwing what they what when they want, how they want, count and batter be damned.
I like that.
Hitters? Probably not quite as into it.
Snell's 2018 — AL Cy Young winner, 217 ERA+, 31.6 K rate, 9.1 BB rate, 7.4 bWAR — was tremendous. Sure, there are some things he isn't likely to repeat — uh, stranding 88 percent of his baserunners again would be quite a trick and that .241 batting average on balls in play will likely drift north, too — but even with regression, it's clear Snell has blossomed into an ace. Two things can be true at once: Blake Snell probably won't produce an ERA in the 1s again, but he's still awesome.
Snell is a hard-throwing lefty with four above-average pitches. That's a rare breed, kiddos, and his Cy Young victory was well earned. As always, I'm amazed by his curveball, with its sweeping break and how well he keeps hitters off-balance with it. Hitters whiffed a whopping 53.4 percent off the time. That's bonkers, my dude.
The Chicago White Sox learned this week (sorry, repeat victims, although might we have an Ode to the Pitcher curse to worry about now?) how Snell's repertoire allows him to control the tenor of any at-bat in any count. Such is the beauty of great stuff.
***
Wellington Castillo (2018: 95 OPS+) leads off and watches a fastball miss low and in. Snell has pretty smooth mechanics, and that nice finish seems to give the breaking stuff a bit more snap.
Castillo watches Snell miss again, and all of a sudden the Rays lefty is in the hole 2-0. That changeup is a freaking weapon, by the way. Snell can tunnel it perfectly with his fastball, and the speed difference creeps into that ideal 10+ MPH range. As we'll see later on, Snell trusts the pitch enough to place it anywhere in the zone in any count.
However, a strike is a good idea too. Snell misses low with the same pitch in the same spot and has fallen behind 3-0 to a pretty unassuming hitter in Castillo.
If you're the batter, do you sit fastball? A lot of hitters do in 3-0 counts. I assure you, Blake Snell has no desire to walk a guy like this. There's no real reason to avoid challenging him.
Truth is, sometimes pitchers miss.
Man oh man. That was hardly a "get me over" fastball — a pitch meant to be nothing more than a strike. No, that's an upper-90s fastball right under the hands. Hell of a pitch by Snell, and notice that he went soft away to hard in. Castillo knows — well, he probably did anyway — that the plate belongs to Snell.
This is the change sequence I was hinting at. Blake Snell threw a high changeup out over the plate in a 3-1 count and I'm not even sure he missed his spot. I think he wanted it there. That's hardly a typical tactic, folks. That pitch is 86 MPH. Taken out of context, it's a meatball — heck, maybe even in context it is, but Castillo watched it go by, only feinting a swing. On the outside corner, yes, but belt high.
Now the power in the at-bat is firmly back in control of the pitcher. Good news for Snell, terrible news for Castillo.
Oh my God. Can I somehow tattoo a gif onto my body? Because I'd consider it with this curveball. Either Welington Castillo is utterly unable to swing or he's been fooled for the last three pitches. Both are possible.
Snell worked him with the fastball and changeup out of a 3-0 count — down, up, in, out — and finished the damn fight with a filthy curveball middle-in. Catcher Mike Zunino hardly moved his glove.
One down.
Yoan Moncada (2018: 97 OPS+), no stranger to punchouts, steps up to try and chip away at the Rays 4-run lead. Snell starts him off with a curveball below the zone for ball one.
Moncada gets a second curve middle-in for a called strike. Not quite a hanger, but certainly proof that Snell does as he pleases in the strike zone. The 2018 AL Cy Young winner pitches like a man who doesn't worry himself with your hitting abilities. Moncada's no pumpkin, either, having hit 28 home runs last season.
Nasty. Really hard to tunnel the fastball and curve — curves usually have that tell-tale 'hump' out of the hand — so Moncada wasn't necessarily fooled that way. No matter, this is a great fastball. If Moncada was sitting dead red perhaps he could have done something with it. I don't know, man.
Regardless, Moncada is firmly in the danger zone now.
(Also: I love Snell's pirouette.)
Oh my God. You know what, I'm not tattooing just one gif. I need two now. Maybe across the upper shoulders? That'd be cool, right? Is my wife reading this?
Moncada has absolutely no prayer of making contact. Snell's curveball is perfectly located, perfectly sequenced, perfectly executed. Seriously, Moncada barely fouls off a fastball right up under the hands then Snell drops this hammer? Considering the young infielder led both leagues in strikeouts last season, this almost seems unfair.
Highly touted rookie masher Eloy Jimenez steps up. Jimenez has a bright future for the Pale Hose, a future spent mashing taters all over the South Side. The White Sox gave him a big extension before he played an inning of Major League Baseball, which I suppose is one way to avoid the silly service time manipulation game. Snell starts the young outfielder with a fastball.
What makes Jimenez enticing is how complete of a hitter he profiles to be. He's not a Joey Gallo all-or-nothing guy. He'll hit for power, he'll draw walks, and as we see in the next pitch, he has some plate discipline. Snell shows him a nice slider buried below the zone, hidden neatly within the fastball that preceded it, and the youngster lets it bounce by. Good take.
Snell misses low and away with a change, putting himself behind the 8-ball against a young hitter who can do some damage. The league hasn't seen much of Eloy Jimenez yet, but history is replete with examples of young dudes raking early on. Snell can't play games here.
Incredible pitch. Snell goes below the zone with his curve, believing that Jimenez will chase and either miss it or make weak contact. He was right. This is yet another filthy breaking ball and at this point, the impending tattoo is occupying a frightening amount of my body.
Snell again has control of the at-bat (2-2 is a pitcher's count, kiddos), with a wide array of tools to finish off the youngster.
Having worked low with the change and the curve, Snell wisely climbs the ladder and places a 97 MPH fastball in the tippy top inside corner of the zone. Jimenez is frozen for a called strike three.
Unbelievable pitch. Absolutely unbelievable.
***
From a USA Today article earlier this spring:
"My mentality is really everything," says Snell. "If I'm not pitching, I'm pretty laid-back, goofy. An hour until I pitch, until I'm done? It's serious. It's personal. I don't like the way I felt when I got sent down (in 2017), the way I felt with my teammates. I just remember that and realize, 'I'm not going to let that happen again.'
"So when I pitch, it's violently personal. You're just not going to beat me, is the way I have to look at it. Sometimes you lose, but it's all about understanding how I'm going to get that guy out this time as well as next time."
So when I pitch, it's violently personal. Pitching offers athletes a wonderful opportunity and a terrifying risk. If you're great, you're the center of the world. You control everything and the game ebbs and flows at your whims. But if you struggle, suddenly every ounce of pressure falls right on your shoulders, and unlike most team sports, you are exposed. You are alone.
Snell realizes some games won't go his way, but he'll happily die on his sword in the process.