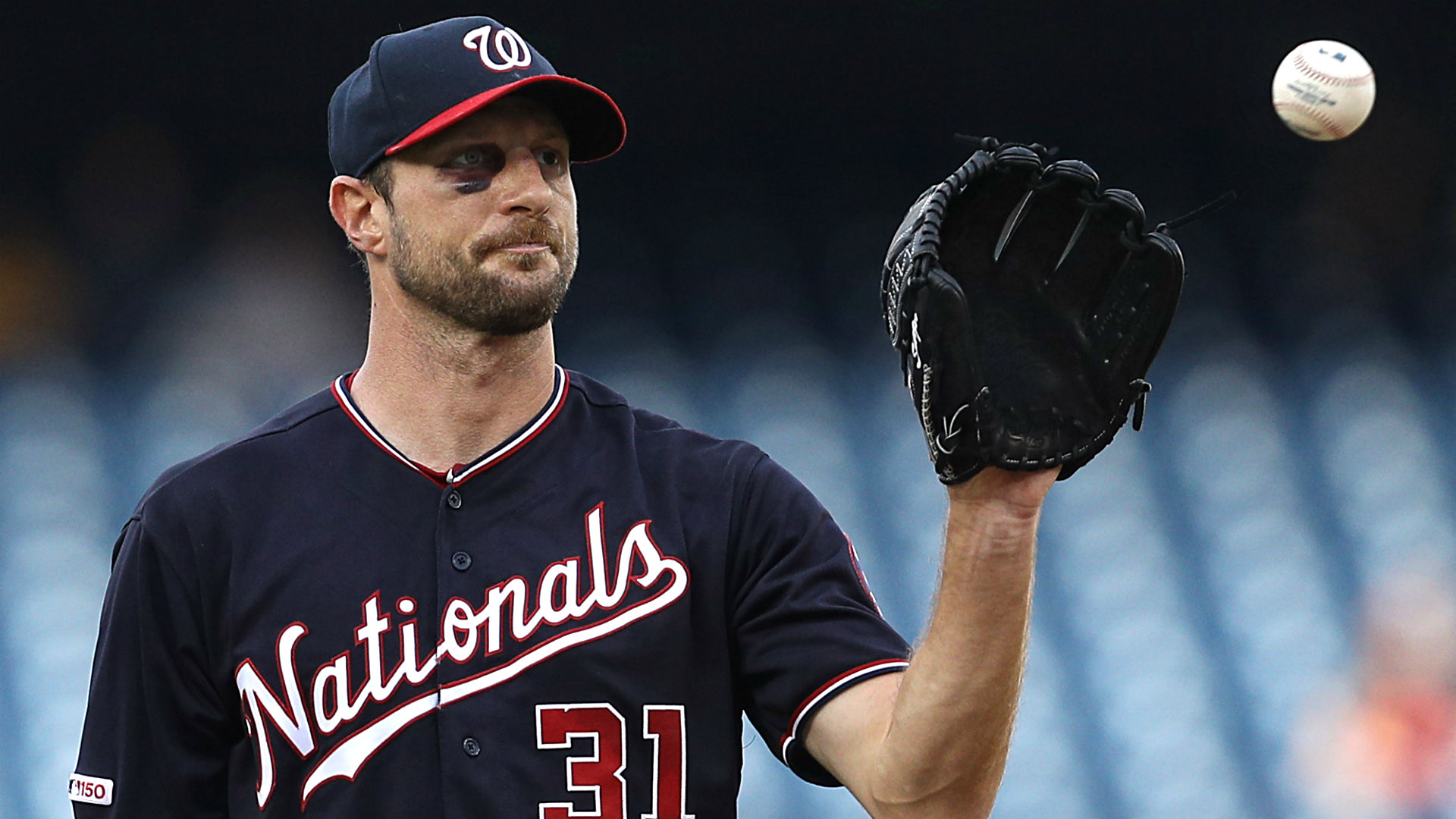 There's nothing cool about bunting a ball off your own face. It doesn't matter who does it. Robert Downey Jr couldn't make that suave. Max Scherzer is about as smooth as sandpaper, so you can imagine how it looked.
This all occurs the day before Scherzer is due to make his next start. We learned Tuesday night that the Nationals ace broke his nose and developed a nice black eye. Lovely. You'll be shocked — shocked — to know that Scherzer wasted no time telling his manager he'd be missing no time. A few reporters mentioned that he even pantomimed his pitching delivery in the skipper's office to drive the point home.
There were some legitimate concerns about whether the swelling would spread or his breathing compromised, but come on. This is Max Scherzer. There's no stopping him.
Just ask the Philadelphia Phillies. Scherzer dominated them earlier this week, throwing seven shutout innings and punching out ten. We're going to examine that final at-bat in this week's Ode to a Pitcher.
No safe place facing an angry Scherzer
A man steps onto his mound, near the end of a hard night's labor, feeling it throughout his body. The arm is a little tired and the legs are sore, but the first wound we notice is right below his eye — odd for a pitcher, but alas. A black eye. Hmm. That guides our attention right to the scowl on his face, a picture of determination and anger.
As fans, we love a pitcher who doesn't want to exit the game. We love those hard-nosed competitors who snort at umpires, gesture away coaches and stare down batters. History is replete with aces who acted this way: Bob Gibson, Pedro Martinez, Roger Clemens, etc. Those narratives are so easy to latch onto. We find them irresistible.
Max Scherzer pitches with men on base like someone just spat on his wife. His intensity is palpable; he works angry. It's hard not to be enthralled by it (or terrified, if your team is in the crosshairs.) The Nationals ace entered the seventh inning at just below 100 pitches, carrying a one-run lead. The Nats bullpen has looked better lately but still sits just above the ghastly Orioles in bullpen ERA. Yikes. Scherzer knows he needs to carry the ball as far as he can before risking this win to fate.
So, imagine his reaction after hanging a 1-2 slider to Phillies infielder Cesar Hernandez, who promptly lined it to the right-field wall for a double. Runner on. No out. Scherzer now over 100 pitches, bearing a damn black eye.
Doesn't this feel like a movie? The camera zooms in on Scherzer's growling face as the announcers ponder the situation. It's perfect, really, because this is ace time.
Scherzer immediately does his part, grinding through tough at-bats to strike out Brad Miller and Andrew Knapp. It must be noted that Scherzer missed with three straight fastballs and still finished Miller and bludgeoned poor Knapp with fastballs up in the zone to finish him.
Now he's one out away with the pitcher's spot in the batting order up. Jake Arrieta was never facing Scherzer here, but rather than pinch-hit with a bench guy, the Phils send up J.T. Realmuto. Realmuto is no slim challenge; he's been one of the best hitting catchers in baseball the last few years, and he has a chance to ruin a potentially epic night for one of the sport's premier hurlers.
Scherzer, sitting at 113 pitches, starts the Phillies catcher with a slider up and in for a called strike one. This is a borderline strike at best.
Notice where Kurt Suzuki sets up; he hung it and had Scherzer left it over the plate, it was potentially a disastrous mistake. Note that is a particularly humid Washington D.C. night, and fatigue isn't just a mental issue. You can't always just power your way through it. Tired muscles do things you don't want them to do, and even with unsafe-for-normal-humans amounts of adrenaline thundering through his veins, Scherzer bears the weight of a hard night's work.
Working with the advantage in the count, Scherzer attacks Realmuto with a 96 MPH fastball that misses high. Suzuki does a great job of bouncing up to snag this; otherwise, Hernandez trots to third. Tactically that isn't a big deal with two outs, but it would further convey that the Nationals ace might be out of gas.
The count now sits 1-1, yes, but he's missed both times. A mistake over the plate ties the game. Scherzer has to make a good pitch here.
And oh, does he ever.
Given the circumstances, Scherzer's 1-1 fastball to Realmuto is one of the nastiest of the year. The location is perfect, right under the hands, nestled there with some smooth run at the end. It's hard, too, 97 MPH; pretty darn impressive for your 116th pitch on a muggy evening.
Realmuto loosed a healthy hack and came up with air, and note how he looks back at the zone with almost befuddlement. That's what a great pitch will do to you. Unless Realmuto was sitting dead-red on a fastball in that spot, doing anything with it would seem almost miraculous. It happens, of course. MLB hitters are awesome. But driving a well-located Max Scherzer fastball isn't the start of a great plan.
Ah, what to do now? The count firmly belongs to the pitcher, and Scherzer has tons of options. He could run the same fastball another few inches inside and try to tie Realmuto up, or he could venture back up above the zone. Unless the pitcher sees something I don't, it's unlikely Realmuto can catch up. Ah, but what about the breaking ball, perhaps out of the zone? Seems like a good idea, but remember — I assure you, Scherzer hasn't forgotten — that a flat 1-2 slider put Hernandez at second base. That doesn't predict the future, but it informs the present. It's part of the decision.
Realmuto, meanwhile, now must cover the entire plate while also being ready to knock another up-and-in heater foul. At this point, against someone like Scherzer, unless Realmuto went up to the dish looking for something specific, you have to just keep the fight alive and hope for a mistake. That means a short swing, hoping for a mistake, ready to bounce balls foul. And hey, Scherzer already missed twice in this at-bat. It can happen.
But then again … you're facing a three-time Cy Young winner; he's pissed; he has you in a 1-2 count with a chance to emphatically close out seven shutout innings … and he's pissed. There is no great option here. We're hanging on for dear life.
Scherzer chooses the slider and drops it right under the lip of the strike zone. It looks just like a fastball until it isn't, and Realmuto's off-balance hack misses. The crowd erupts, Suzuki pops up to show the umpire he caught it and Scherzer slaps his glove and lets out a roar.
Scherzer's fastball-slider combination to close the inning was classic. There's nothing fancy about it, nothing revolutionary, but my God does it ever work. Change the eye level, change the speed, voila. Scherzer dominated Realmuto with a fastball on his hands and then spun him in a circle with a slider in the exact opposite quadrant of the strike zone.
Masterful.